How to Apply for WhatsApp Business API in 5 Minutes?
Many MNCs in Hong Kong have started using WhatsApp Business API (WABA) to communicate with their clients. WABA is the third type of a WhatsApp accoun.
What are some difficulties I may encounter when applying?
All businesses must apply for WABA through an official WhatsApp approved business solution partner. In addition to the time required to apply, different partners have different application procedures and methods, some of which may not be transparent enough for businesses to keep track of their applications.
Currently, a verified Facebook Business Manager is essential to apply for WABA. Not only does the process take one to two weeks, but Facebook also requires companies to submit specific company documents for investigation during the verification process, this ends up being a big headache for many companies.
We often get the question of "Can I transfer my existing WhatsApp Business App number to the WhatsApp Business API?". The short answer is yes. But the existing user information and chat history stored in the WhatsApp Business App will disappear. Please contact us directly if you need to do so, and we will provide the best solution to help you make the transition.
How can Stella help you?
Stella is Sanuker's self-developed chatbot production platform that allows companies to design and manage different types of chatbots on the platform. To allow companies to manage their WABA applications on their own, Sanuker has introduced a self-service WABA registration system on Stella that clearly shows the process and status of each step. Best of all, there are no fees until your WABA is approved and connected to Stella.
Here are the steps:
After successfully registering for a Stella account, select "Channels" at the top menu bar and click on "Start WABA Setup". 

Read the information from the pop-up, tick the checkbox, and click "Start Setup".

You will be asked to log in to your existing Facebook account. New Facebook accounts will NOT be approved for Facebook Business Manager. Once you have logged in to your Facebook account, select "Get Started" to connect your Facebook account to Sanuker.

Then, select "Continue" to share account and billing permissions with Sanuker.
In Step 1 of 3, create a new Facebook Business Account or select an existing Facebook Business Account. 
Then, create a new WhatsApp Business Account or select an existing account. Fill out the information as needed and press "Continue".
In Step 2, create your WhatsApp Business Profile. Input the WhatsApp Business Display Name. Tick the checkbox if your display name is different from your legal business name, you may need to provide a website to prove your business relationship to the display name.
Press "Continue" and enter the Category and Business Description of your business. 

In Step 3 of 3, enter a phone number with its country code to register the number on WhatsApp.
    Please keep in mind the following items before choosing a phone number:
You can input a phone number of a landline number

The phone number must be able to receive text messages and calls

Make sure this number is NOT registered to any existing WhatsApp accounts.
Then, select a Verification Method between Text Message or Voice Call. Select "Send Code".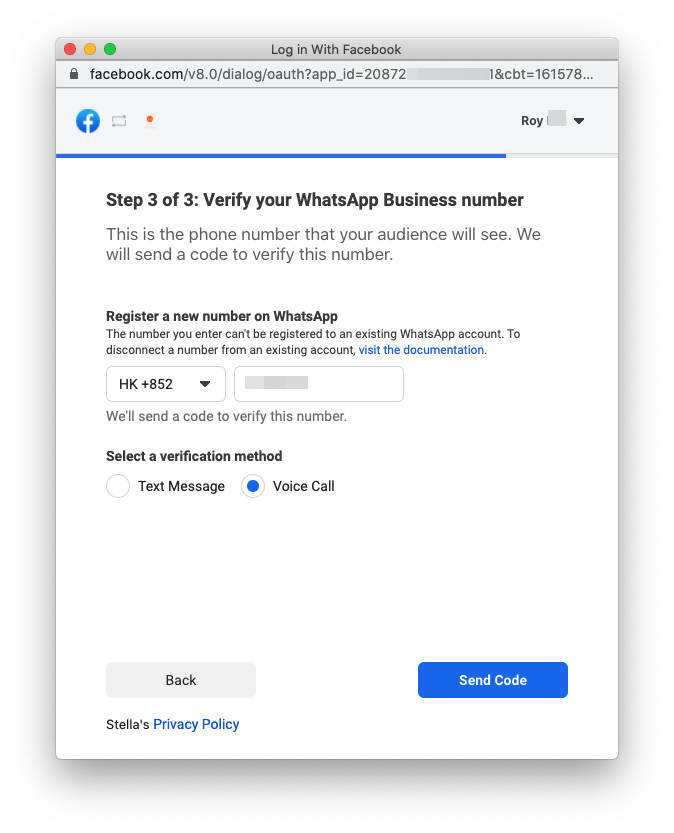 Once you have received the verification code, enter the code and press "Verify". 

Once your phone number has been verified, select "OK" to complete the setup. 

Deploy the WhatsApp Number by selecting the WABA account, phone number and location, click "Deploy Now".
Congratulations! You're all set and you should be able to see the registered phone number info under section "Connect" now. 
Once your WABA is properly deployed, it's time to start making your chatbot!


Meet Stella!
Design your chatbot with the option of coding or not using our chatbot building platform, Stella. With Stella, even marketers can easily create simple chatbots, while developers can upgrade their bots with code for live chat, customer relationship management, and e-commerce features!
Chatbot Creation Platform
Stella supplies a code-free chatbot creation platform that allows you to design and modify the conversation flow at any time. Stella provides multiple features that cater to the different needs of businesses. 
Here are three key features that are loved by our customers:
1. Push Notifications
Stella has designed a push platform to match the marketing strategy of our customers, allowing them to freely choose who to push and send personalized messages to. We have optimized the interface to allow customers to select specific push times and pre-defined push messages to reduce customer anxiety. In addition, customers can choose specific targets and send messages in advance for testing to reduce the incidences of mis-sending a message.

Stella's Push Platform

2. Members
Stella also has a secure central database for member data. Here, the platform used by each member is clearly marked, and you can add member tags to the conversation flow so that you can see the conversation points triggered by each member in the future and know the preferences of each member in the repository. 
If you want to get a full view of your customers' inquiries, just click "View Conversation" and you can see all the conversations between customers and chatbots or customer service agents. Stella also has a filtering feature that allows you to easily find a specific member's conversation history by clicking on the funnel icon in the upper left corner.
Stella's Members Page
3. Multi-party Communication Platform Support
Stella offers comprehensive multi-party software support for our customers to keep them connected to the world. We offer all popular communication softwares and are well-versed in the limitations and terms of each platform, allowing our customers to use the chatbot on as many platforms as they need without worry.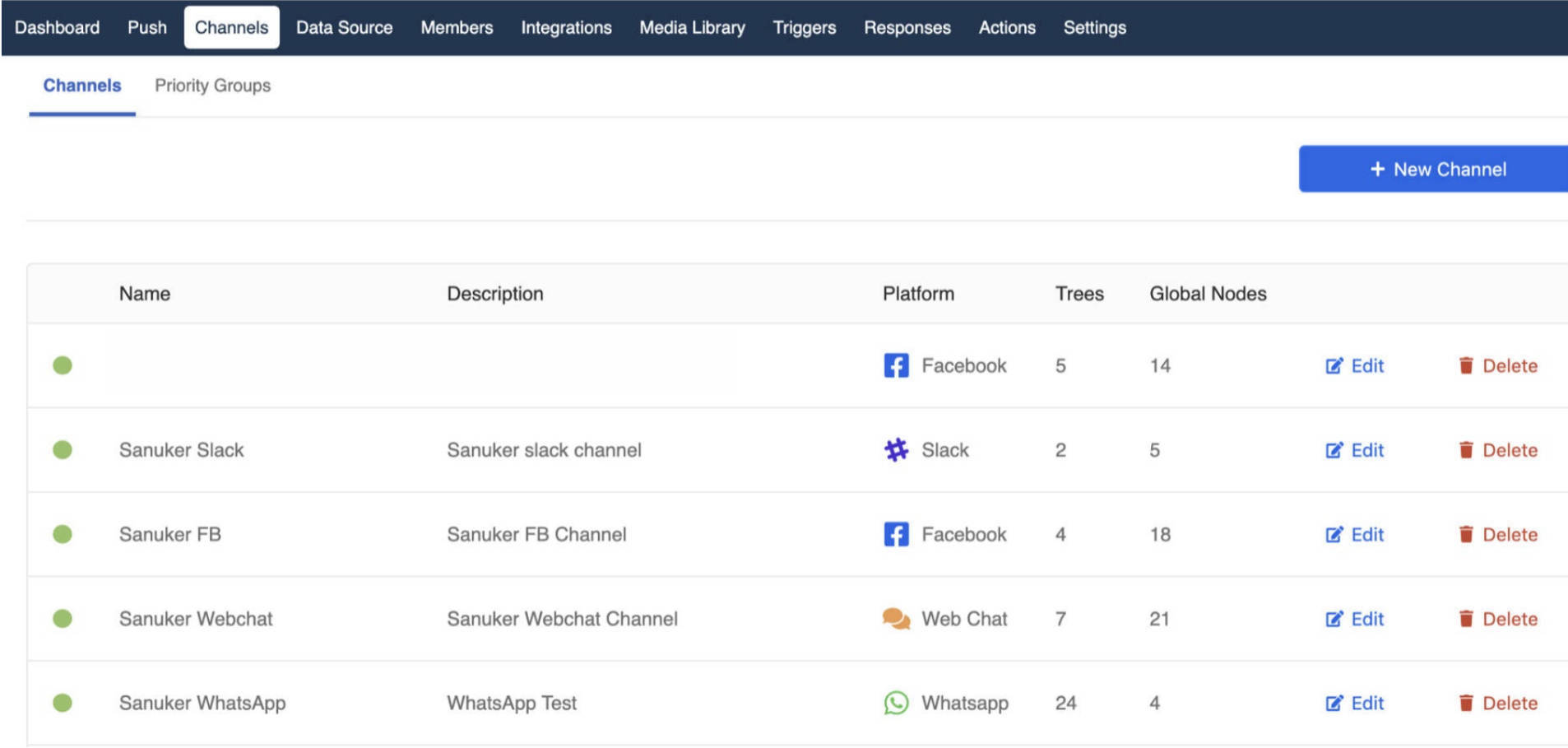 Stella's Channels Page
Please go to our website at www.sanuker.com or email hello@sanuker.com to contact us and find out more!


Contact us
Email: hello@sanuker.com
WhatsApp: +852 6822 7287
Book a meeting with us to create your amazing chatbot
Unleash your conversational power to get more and better qualified leads, improve customer experience and engagement, deliver automated support and reduce costs, and optimize your team's workflow.