[Beginner's Pack] Understand WhatsApp Business API in 5 mins
What is WhatsApp Business API? Let us tell you what essential elements you need to know before start using WhatsApp Business API.
With more than two billion users worldwide using WhatsApp every month, WhatsApp messaging is a major trend for companies to improve marketing, sales and CRM. With WhatsApp Business API you will be able to communicate with your customers in their favorite channel and boost your results.
What is WhatsApp Business API (WABA)? 
WABA is a service designed by WhatsApp specifically for medium and large enterprises to communicate with customers over the globe. However, it does not have a user interface so it must be integrated with other platforms or programs to work.
What can you do with WhatsApp Business API (WABA)?
With WABA, you can have multiple customer service agents managing a single WhatsApp account. You can also use a chatbot to automate conversations and reduce the number of customer service agents required. Many companies also combine WABA with third-party chat programs (eg. Slack, Microsoft Team, or Zendesk) and internal systems to provide higher-level services such as payment reminders, logistics statuses, product recommendations, member points and offers, and more.
In short, you can scale your customer service and send interactive notifications that increase customer satisfaction with your business with a WABA account. As WABA allows businesses to broadcast messages at a larger volume, you can reach a wider audience with your account and automate business processes more.
Learn more about the three types of WhatsApp accounts (WhatsApp, WhatsApp Business App, WhatsApp Business API)  with the chart below: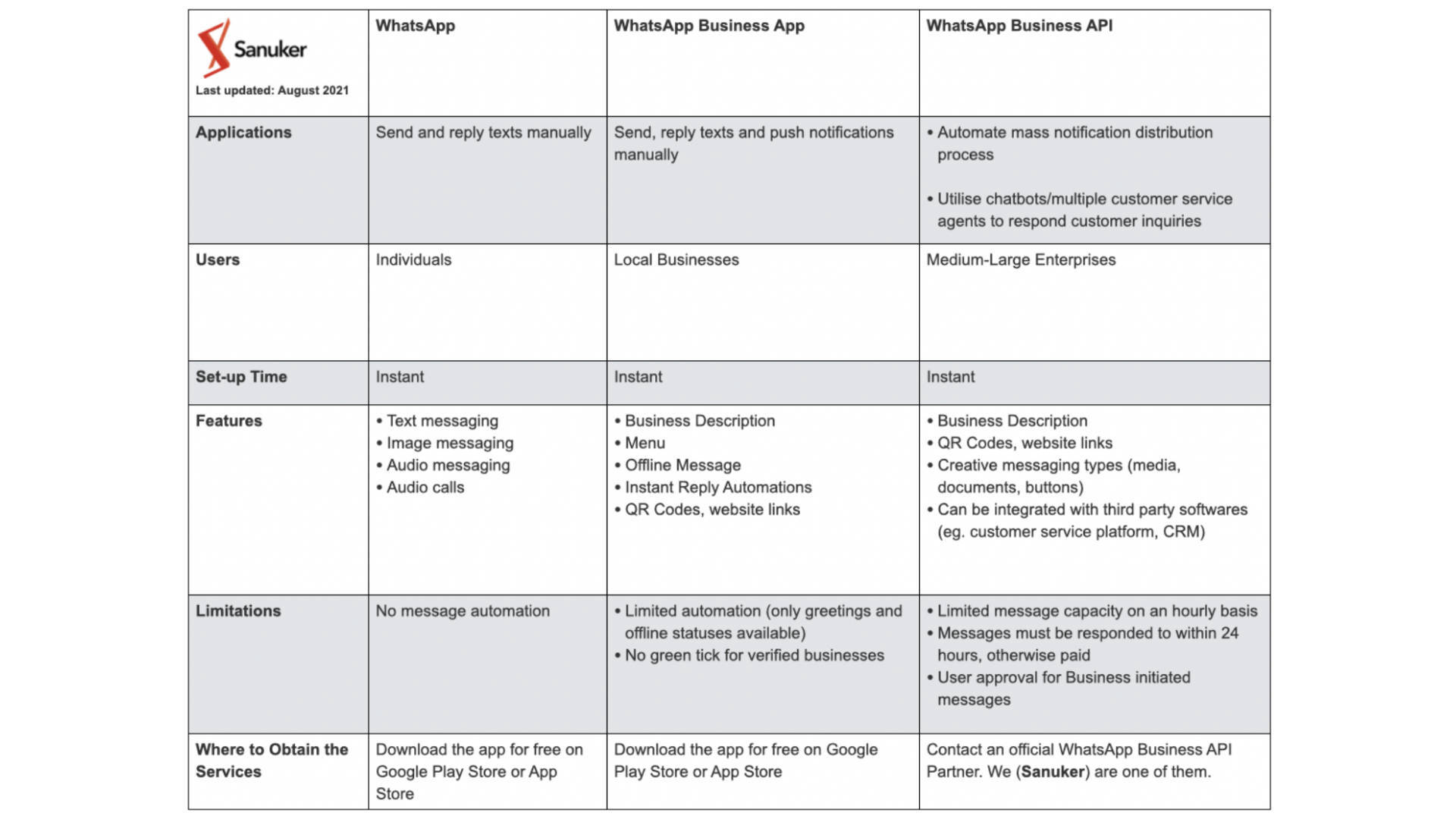 How can I sign up for WABA?
Sanuker is an official WhatsApp Business Solution Provider (BSP) and can help you get started on your account. Find out more information on https://sanuker.com/ or email hello@sanuker.com to contact us!
Contact us
Email: hello@sanuker.com
WhatsApp: +852 6822 7287