All you need to know about WhatsApp Business API new pricing& 10K free msgs giveaway!
WhatsApp Business API announced that it has officially switched from a notification-based pricing model to a conversation-based pricing model.
https://developers.facebook.com/docs/whatsapp/pricing/conversationpricing745
From February 1, 2022, WhatsApp has switched from a notification-based pricing model to a conversation-based pricing model. Businesses are charged per conversation which includes all messages delivered in a 24-hour session, either initiated by the business "Business-initiated" or in reply to a user message "User-initiated", while an unlimited number of messages are supported within a 24-hour conversation session without incurring additional charges. Each 24-hour conversation session results in a single charge.
Key Point 1- WhatsApp Business API conversations are priced differently towards "user-initiated" and "business-initiated"
The pricing standard of the conversation depends on whether it is initiated by customer or business. Generally speaking, the user-initiated charge is lower so the enterprise can encourage potential customers to initiate the chat with businesses through marketing campaigns or advertising links in order to reduce cost.
Rates for business-initiated and user-initiated conversations vary by country or region. Take the Asia-Pacific region – Hong Kong as an example, the user-initiated rate is USD$ 0.0224 (about HK$0.18), and the business-initiated rate is USD$ 0.0745 (about HK$0.58).
【See Rates for specific pricing information.】
Key Point 2- Businesses will not be charged if it does not reply to the user-initiated message.
It is worth noting that after the customer initiates a message, whenever a business replies to a user within the 24-hour customer service window, that message will be associated with a user-initiated conversation. Businesses can send free-form messages within this 24-hour customer service window at user-initiated conversation price. If the company does not respond to the user-initiated message, it will not start the 24-hour conversation session and the company will not be charged.
Key Point 3- Free entry points free conversations customers
When a user starts a WhatsApp conversation through the "Click-to-WhatsApp" button on a Facebook advertisement or on a Facebook page, the messages are free for the first 24 hours of conversation.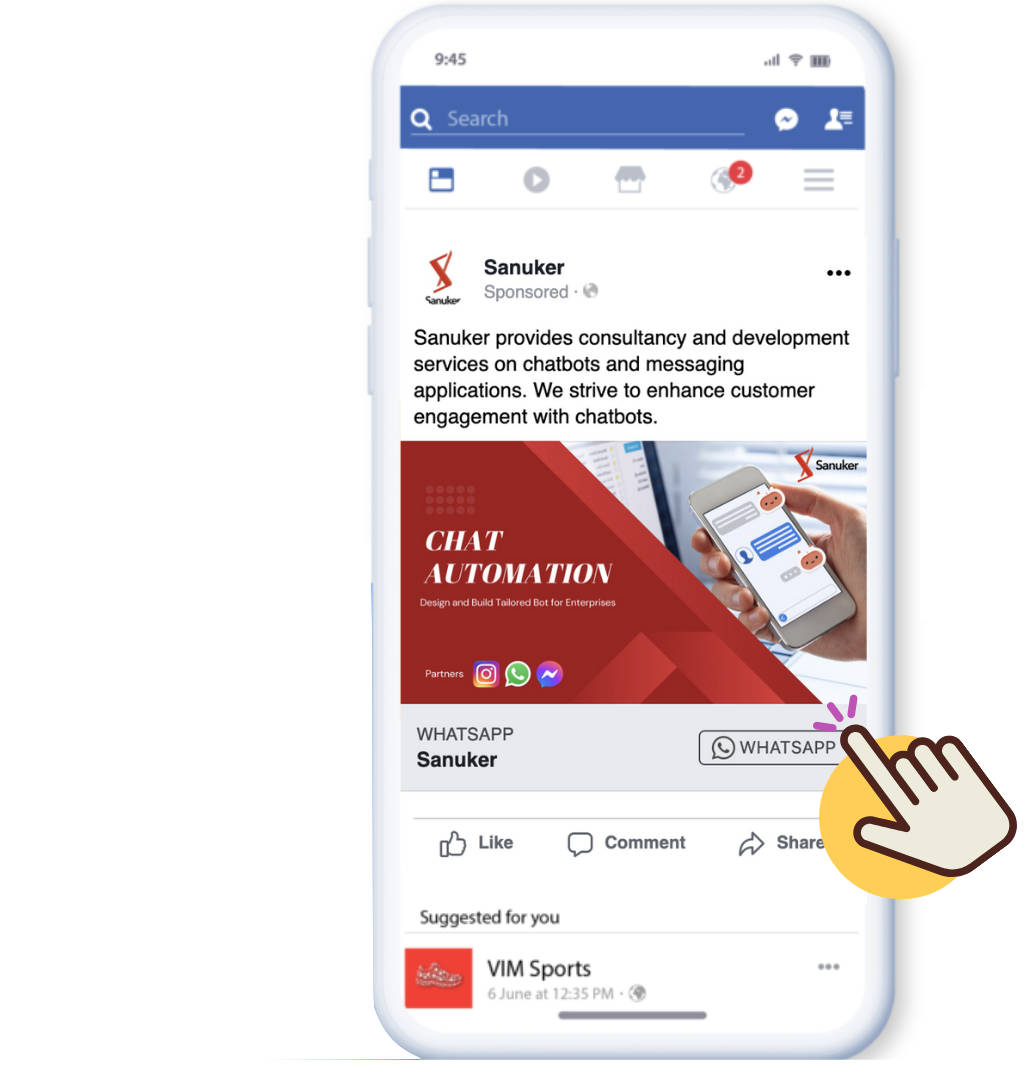 Key Point 4- Encourage customers to Opt-in
After collecting the customer's WhatsApp contact through different channels, you can encourage the customer to Opt-in (agree to receive messages), and then you can update the company's news or send a quality-based message to the opt-in customers anytime through WhatsApp.
When sending business-initiated messages, you still need to use a pre-approved message template to ensure that the content meets the WhatsApp guidelines.
"Exclusive Offer for New Customers in the Year of the Tiger" – Companies with 3,000 WhatsApp customers or above can get 10,000 free WhatsApp messages
Sanuker is offering an exclusive offer for new customers in the new year, as long as companies have 3,000 WhatsApp numbers of customers and participate in our "7-day WhatsApp Onboarding Program" before February 14th, they can get 10,000 free WhatsApp broadcast messages! Wish you all good luck in the Year of the Tiger!
For more details, please make an appointment with Sanuker here.
Book a meeting with us to create your amazing chatbot
Unleash your conversational power to get more and better qualified leads, improve customer experience and engagement, deliver automated support and reduce costs, and optimize your team's workflow.