A Simple Guide to Instagram Chatbot Game
Businesses can now build chatbot in Instagram Direct and even make it viral among your audience by creating a chatbot game.
Who doesn't love playing an interesting game? Gaming has always been a great way to engage your audience, you can educate your audience and achieve certain business objectives through an interactive and fun customer experience. Now, with a well-designed chatbot, audiences can learn about your business/campaign step-by-step through immersive conversation. 
The longer your audience spends on the chatbot game, the closer your relationship with the audience
Sanuker reveals the best way for business to connect is to personally have a conversation with the customers. In order to do that, businesses can start with an experience game or campaign on social media to attract people. Once the customers start playing, the chatbot will guide the players automatically and encourage them to keep playing till the end. It can also help businesses get the right data as well as user behavior. Most importantly, Sanuker can customize exclusive games or challenges which fit your business best.
Chatbot game to transform university admission experience with a RPG online game
While RPG games have been a hit in the market, Lingnan University implemented RPG game rules to Instagram chatbot and launched the first-in-market enrollment chatbot game in the university. As one of the universities in Hong Kong, Lingnan University would like to attract young talents and boost enrollment. Other than the traditional way to introduce the offering programs, it incorporates university life, culture, and program details in the chatbot game and guides the students to understand more about the university through conversation. 
Collaborating with CMRS Group, Sanuker launched a gamification chatbot  "Lingscape"(領地大作戰) in Lingnan University's Instagram Direct and successfully transformed it into a ground-breaking RPG online game world. Through gamification, businesses can interact with users at a high engagement level.
What can an Instagram Chatbot do?
Instagram is one of the most popular channels in the world. If you are targeting the young generation, this is where your chatbot game should happen.  
In Lingnan University's case, Sanuker customized an adventure story instagram post for Lingnan University to attract students to participate in the chatbot game. Let's explore the game rule and features below. 
Comment reply to kickstart
With comment reply feature, students would be directed to Instagram Direct and start the conversation with chatbot.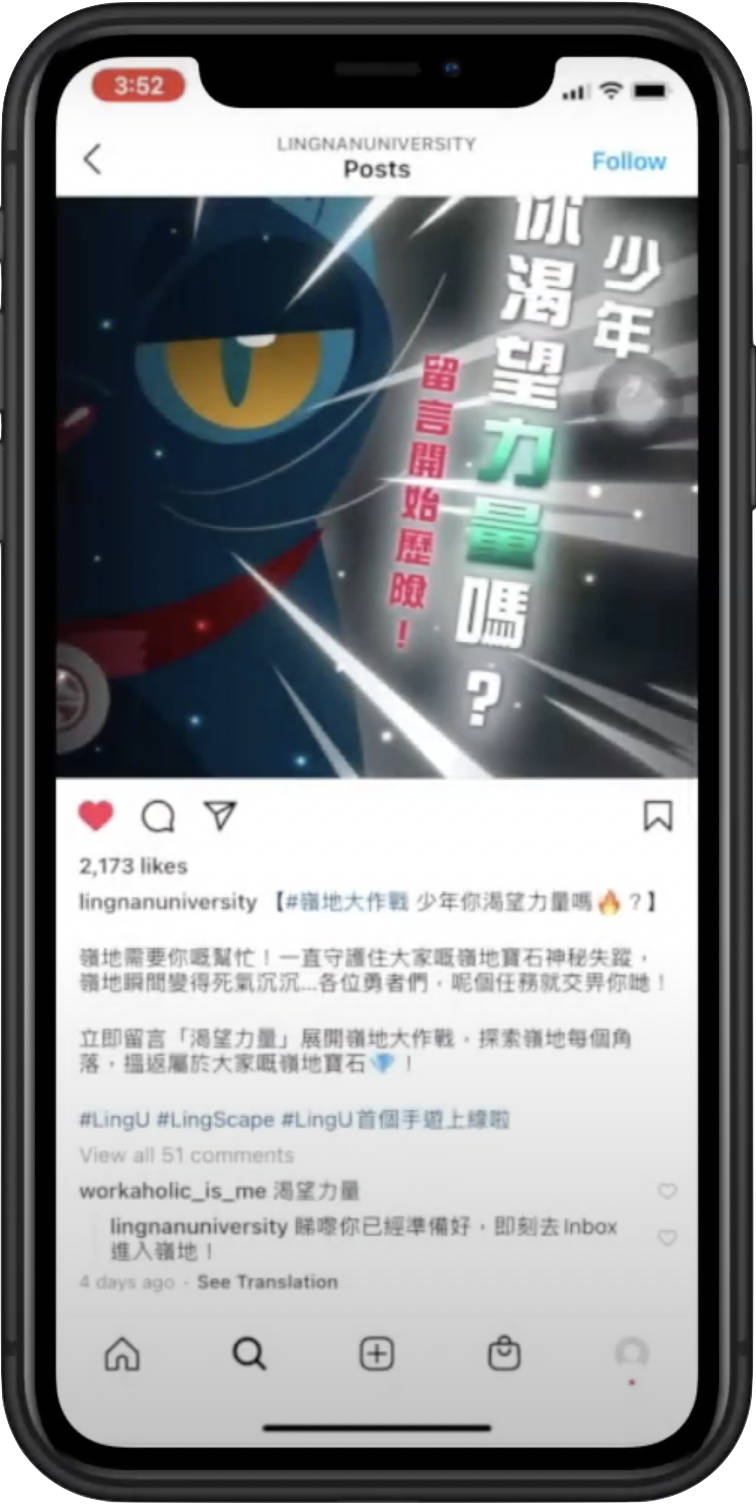 Comment and start a conversation with chatbot
Set up a clear game rule and game objective
A welcome message and "Beginner's Guide" (新手指南)would be sent to students to start the chatbot game. By answering a list of questions, including students' interest in faculty, secondary school name and compacting preferences, students were assigned as different gaming characters and given virtual weapons based on their interests and personality through the conversation with chatbot. 
Users will receive a variety of tasks and stories that help them get an overview of the school's courses and help students stimulate messaging in the flow of events. 
Provide personalized experiences through conversations
In addition, the chatbot also offers many questions and challenges for students to answer and keeps track of their subject interests. Chatbot would continue assigning multiple tasks to students to complete and explore program details and university life when students follow the game flow. For example, there were images showing Lingnan University landmarks for students to find out more hints at those locations, which helps students have an overview of the environment they will enroll in.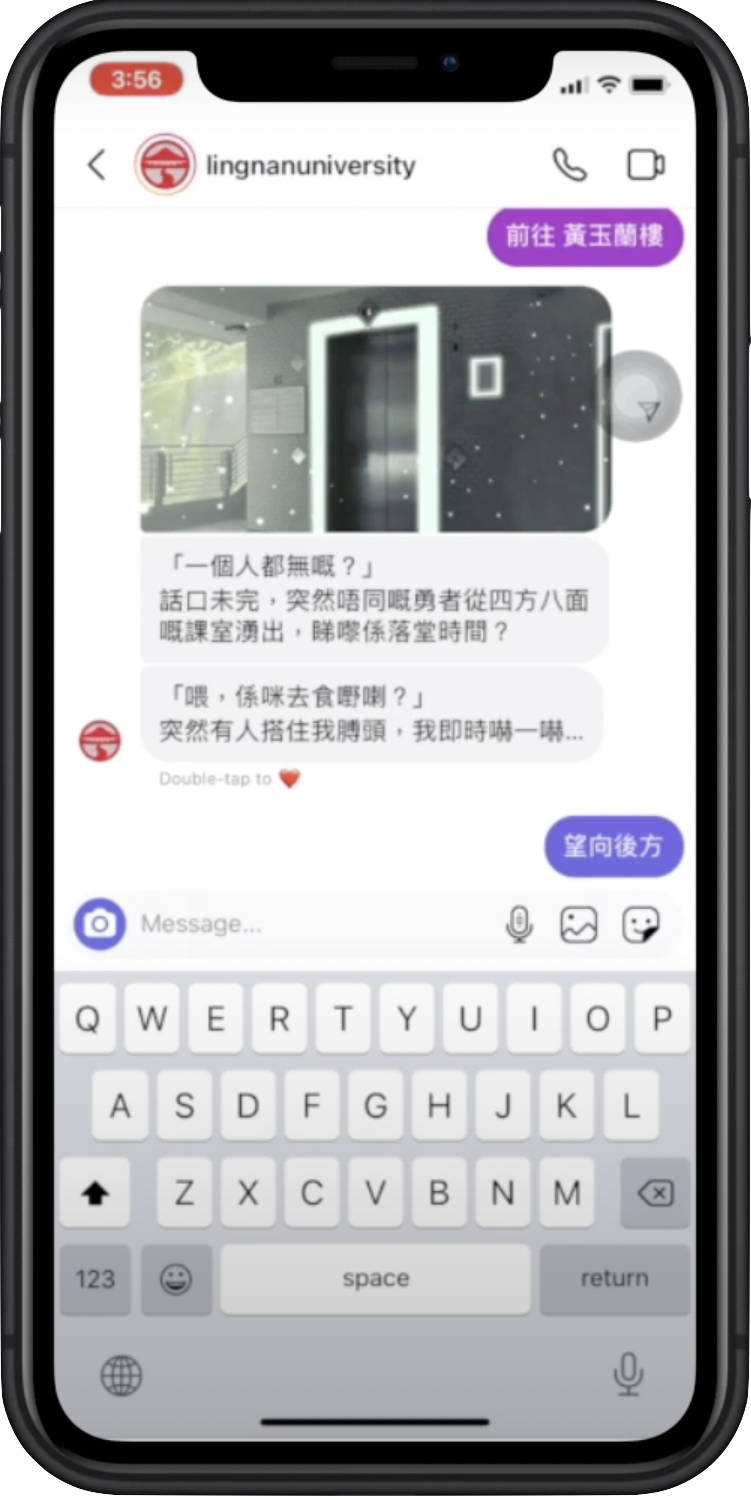 Lingnan University landmark images
Furthermore, the chatbot also prepared many questions and challenges for students to answer to keep track of their subject interests. Students could know more about the university life, including Exchange Plan and the campus, through conversations with a gamification chatbot.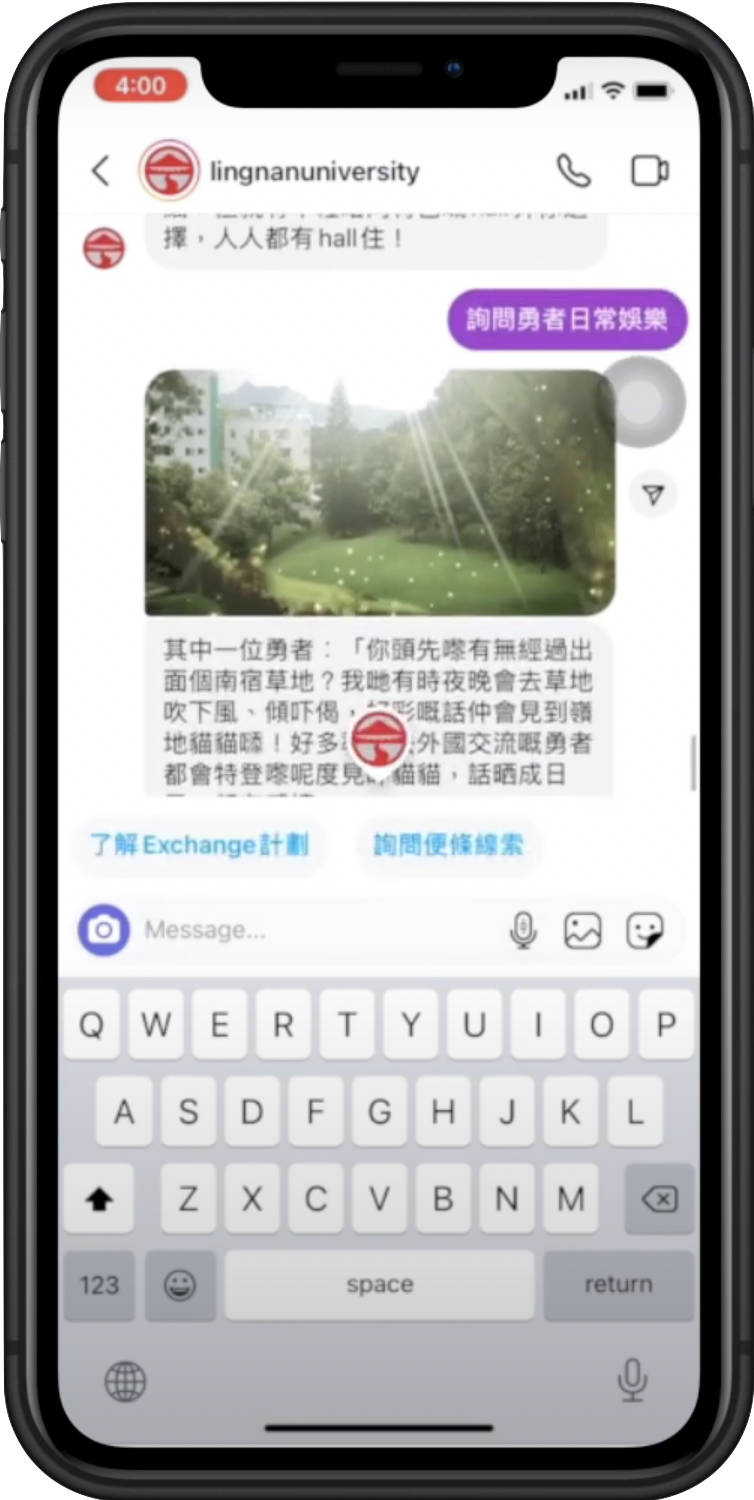 Customized options to smoother conversations
Re-engage your audience with collected information
Audience information and details can also be collected through conversation. Other than basic contact information e.g email addresses, secondary school names and participant names can be collected in the chatbot game, students' interests and behaviors are also collected during the game flow, enabling the school to send out news updates or additional program details to students to encourage enrollment. Hence, it can quantify and identify potential applicants and retarget them after the chatbot game.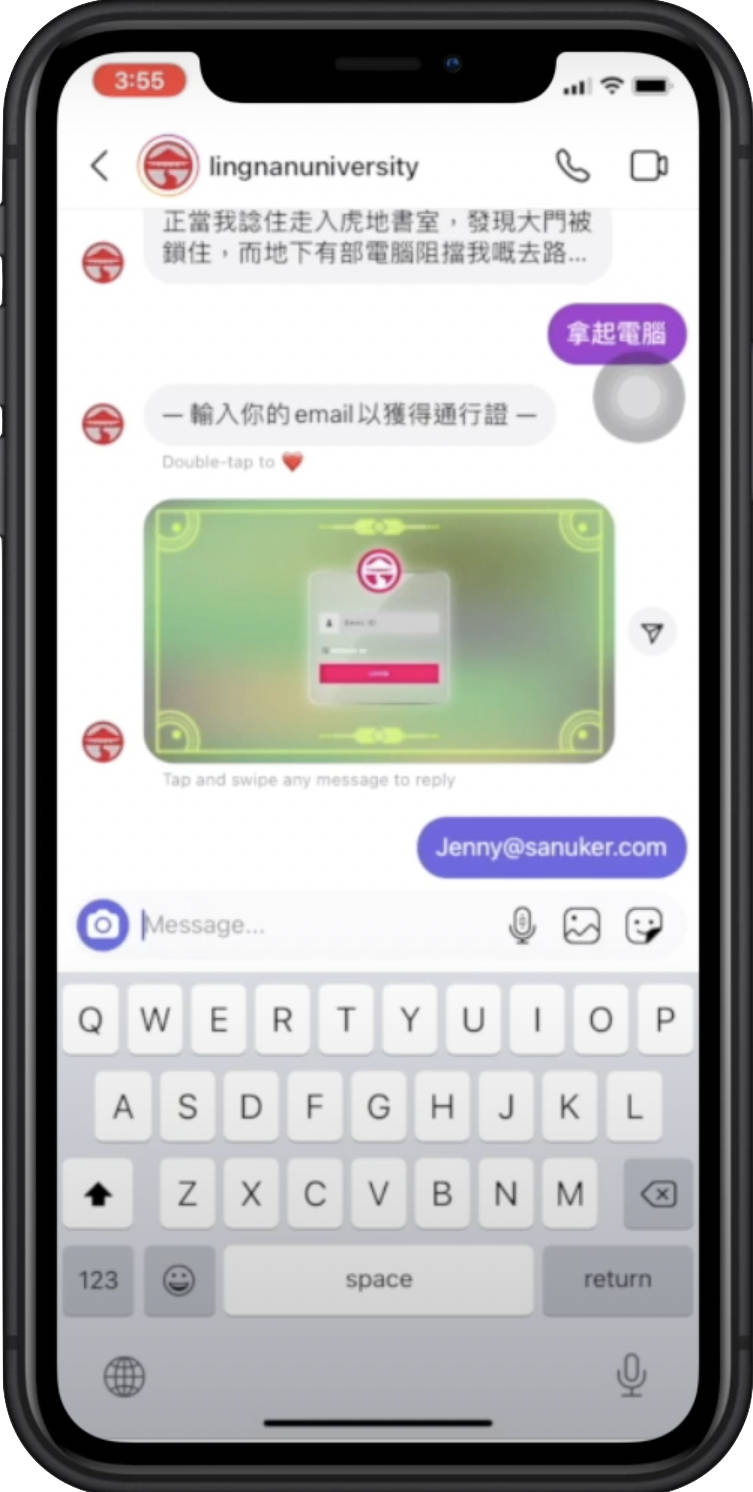 Enters game flow by inputting email address
You can read this blog post for further information– 2022 New Ideas on Gamification Marketing: Go Beyond Auto-reply Social Media Campaign!
Provide incentive to keep your audience engaged
Last but not least, the key to a successful chatbot game is incentive. Setting up a clear incentive and reward to the audience after completing the game can definitely encourage the audience to achieve your business goals. Our study shows that over 80% of users will complete a chatbot game with over 10 questions if there are incentives involved. 
If you're looking to level up your customer engagement, why not contact us and design your own chatbot game? We can provide you with a free consultation, contact us to learn more!